IMPORTANT! We've been made aware of a possible recruiting scam. Please read this important message to protect your personal information while applying for a career at TriWest.
Should you be contacted about an employment opportunity at TriWest, please be aware that TriWest recruiters will never communicate with any employment candidate or any other member of the public through a "@gmail" email address or conduct business in a Google Hangout.
Veteran and Military Family Member Opportunities
We respect and admire the experience you gained while serving in the United States Armed Forces or as a military-connected family member. Now we invite you to discover a new mission with TriWest in supporting the health care needs of those who served.
"I can think of no better qualification to help us serve those who served than hiring those who themselves are a part of the military and Veteran communities."
David J. McIntyre, Jr.
TriWest President & CEO.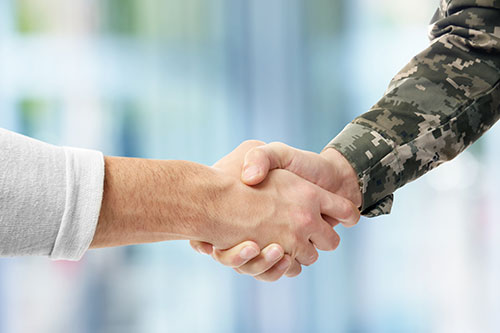 Taking Care of our Nation's Heroes… It's Who We Are. It's What We Do.
At TriWest Healthcare Alliance, we are On a Mission to Serve® our nation's Veterans. TriWest has partnered with the Department of Veterans Affairs (VA) to administer the Community Care Network (CCN) in Regions 4 and 5. These enhanced VA health care programs supplement direct VA care and help reduce wait times by ensuring Veterans can receive timely and reliable access to care through TriWest's network of local providers.
Our People – Serving Those Who Serve
TriWest's dedicated staff—with both military and business experience—brings together the best of the military and business worlds to ensure optimal organizational excellence. Veterans and military family members interested in joining TriWest to serve fellow Veterans can view and apply for current career opportunities.
Locations
TriWest Healthcare Alliance is honored to serve the health care needs of Veterans. TriWest has offices in the locations listed below and also offers many work-from-home positions.
Phoenix, Arizona (Corporate Office)
Honolulu, Hawaii
El Paso, Texas
Anchorage, Alaska
Career Opportunities
TriWest offers a wide variety of career options in areas such as Project Management, Administrative, Patient Services, Medical Operations, IT, Finance, Business Development, Data Services, and Customer Service, and many more.
Are you a Veteran or military family member interested in serving fellow Veterans?
View our career opportunities and explore our website to learn more about our very important mission serving the health care needs of our nation's Veterans.
Become a Member of the TriWest Team!
To view or apply* for an opening at TriWest, visit https://recruiter.triwest.com. TriWest employees must apply internally through PeopleSoft.
*You will be considered an applicant only after you apply for a specific job opening and submit your resume.
NOTICE: TriWest Healthcare Alliance is proud to be an Equal Opportunity Employer providing a smoke-free, drug-free environment. Applicants must be able to pass a drug test and background investigation.
TriWest is committed to making our application process accessible for individuals with disabilities. To request assistance with the application process, please e-mail TWCareers@TriWest.com. We also comply with the Employee Rights and Responsibilities under the FMLA.
Updated: 6/30/2021 2:26:26 PM