Provider Training
CCN Education Available for Providers
Providers will need to know how CCN works to ensure seamless care to Veteran patients.
TriWest has a full training program via its Payer Space on Availity that walks providers through the CCN processes and procedures. The training covers such topics as appointing and approved referrals/authorizations, claims submission, requests for services, and other CCN processes and procedures.
The training methods TriWest has available include:
Webinars – live, interactive virtual classes where providers can ask questions in real time.
MicroLearning Videos – short, bite-sized video snippets that cover various aspects of CCN.
eSeminar Learning Paths – MicroLearnings based on a variety of topics that, when viewed consecutively, form a complete eSeminar. Think of MicroLearnings as individual songs and the Learning Path as the playlist.
Register for Training Now!
To register for CCN webinar sessions, login to Availity and sign up for an account for free.
After logging into Availity:
Navigate to the TriWest Payer Space
Click on the TriWest Learning Center
Register for the various CCN webinars at the times that work for you
Providers may also enroll in an on-demand eSeminar Learning Path by navigating to the TriWest Learning Center, as mentioned above.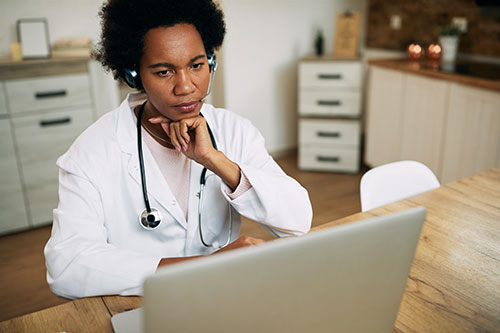 VA Opioid Safety & Military Culture Training for Providers
The opioid safety information and training is a part of the Department of Veterans Affairs (VA) Opioid Safety Initiative, a comprehensive strategy to reduce reliance on opioid medications, and improve effectiveness and safety for Veterans. To enroll, providers can register online and download the two-page fact sheet.
Access Opioid Safety Initiative Training
Take course 1086479
Reserve approximately 20-30 minutes to complete.
Military Culture Training
The VA's recommended military culture training – Community Care Provider-A Perspective for Veteran Care – emphasizes the importance of knowing the influence of military culture and experience to improve treatment outcomes for Veterans. According to VA, Veterans seen by culturally informed providers reported they were more satisfied with their visit and, therefore, more comfortable seeking and sharing information about their health care needs. Providers will receive one hour of Accreditation Council for Continuing Medical Education (ACCME) accreditation for completing the military culture training.
Lethal Means Safety Education and Counseling for Providers
Lethal Means Safety Education and Counseling is an online, self-paced course for health care providers to help enhance suicide prevention efforts with the Veterans they serve.
ACCME, ACCME-NP, ANCC, APA, ASWB, NBCC, NYSED, SWB accreditations are available after the completion of this training.
This no-cost training is a web-based, one-hour course that is available 24/7 at the VHA Lethal Means Safety Training web page.
Updated: 3/7/2023 1:15:32 PM