James L. Robbins, M.D.
Chief Medical Officer - VA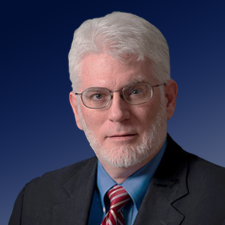 Dr. James Robbins serves as the Chief Medical Officer – VA at TriWest, where he oversees clinical quality, telemedicine, medical management, and behavioral health for TriWest's contracts it holds with the Department of Veterans Affairs (VA). Prior to joining TriWest he worked for 31 years in private practice and the VA system. His background as a provider of care, as well as his experience working within VA health care, makes him an invaluable contributor to the TriWest team.
Dr. Robbins began working at TriWest as a Medical Director in 2016, supporting the Patient-Centered Community Care and Veterans Choice Program. Prior to joining the TriWest team, he worked in VA health care, most recently as Chief Medical Officer for VISN 18 in Gilbert, Arizona. In that position he had oversight for quality and for the clinical aspects of health care in the region, including six medical centers and 50 clinics. He has also served as Interim Director for the Phoenix, Albuquerque and Big Spring VA Medical Centers for a cumulative duration of over 3 years. Prior to his tenure as Chief Medical Officer, he served as Chief of Staff at the Sam Rayburn Memorial Veterans Center, Bonham, Texas. Dr. Robbins began his full-time VA career with the Veterans Administration at Grand Junction, Colorado, where he practiced as a staff physician from 1988 to 1990. Prior to that he had a solo private practice in Georgia.
Dr. Robbins received his BS degree in Mathematics from Louisiana State University in 1979. He graduated from Louisiana State University School of Medicine in 1983, as a member of Alpha Omega Alpha medical honor society. He then completed a residency in Internal Medicine at Louisiana State University Hospital in 1986 and is Board Certified in Internal Medicine.
"We are Committed to Serving Military and Veteran Communities.
It's Who We Are. It's What We Do."
Committed to serving our nation's military and Veteran communities.
Part of our history and our future: Service to others.
Honored to be recognized for our work and community service.
Updated: 8/14/2023 2:05:12 PM