How to Make a Telehealth Urgent Care Appointment
This step-by-step guide outlines how to make an urgent care telehealth appointment.
Urgent care symptoms that can be addressed through telehealth include, but are not limited to:
Allergies
Rashes
Bug bites
Cold sores
Conjunctivitis/pink eye
Constipation
Lice
Minor sprains/strains
Poison ivy
Ringworm
Scabies
Shingles
Skin infections
Step 1: Check your eligibility. Call 844-MyVA311 (844-698-2311); select option 1, and then option 3.
Step 2: Go to the VA Facility Locator Tool.
Step 3: Enter the following into the Search:
Your five-digit ZIP code.
Urgent care under "Choose a VA facility type".
Community urgent care providers (in VA's Network) under "Choose a Service Type".

Step 4: Zoom in on the map to find your nearest urgent care provider.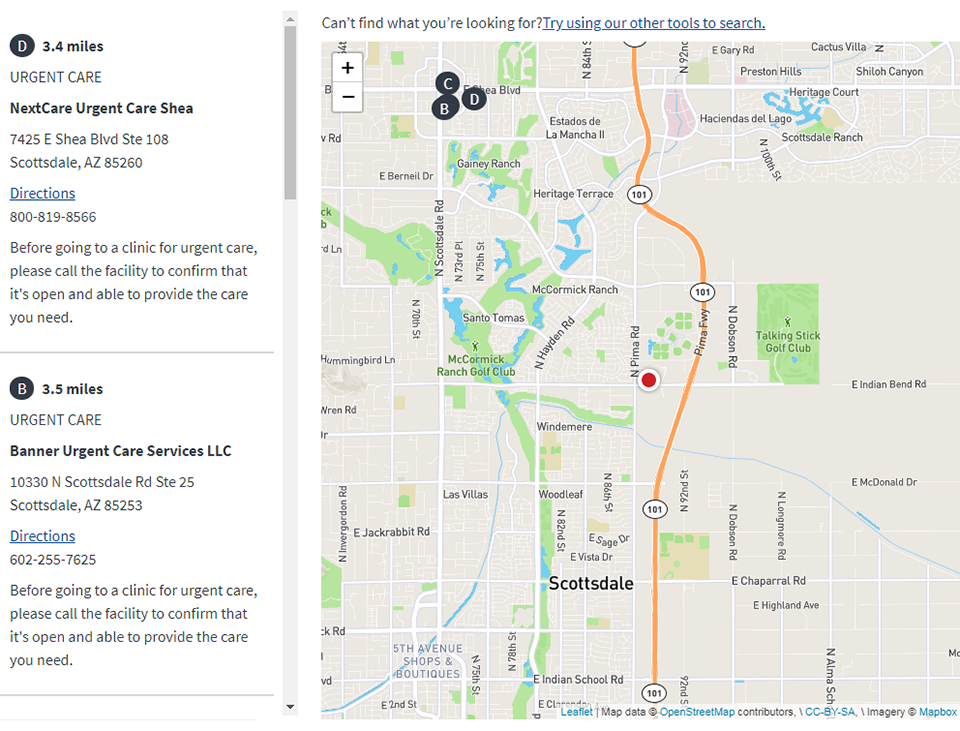 Step 5: Select an urgent care facility from the list on the left. Call to determine if telehealth services are available.
If the urgent care facility has telehealth capabilities, proceed to Step 6.
If it does not, return to Step 5 to call another facility.
Note: Larger urgent care facilities (e.g., MinuteClinic, NextCare, American Family Care) are more likely to have telehealth capabilities.
Step 6: Tell the facility you are a Veteran receiving benefits from VA and would like to schedule a telehealth appointment. Helpful Tip: Remind the urgent care facility to call and validate your eligibility prior to the appointment.
If the telehealth provider indicates that it will require an out-of-pocket cost to you, tell them that your coverage is through VA and should be billed directly to TriWest. If that is not possible, return to Step 5.
Step 7: Once an urgent care telehealth appointment is scheduled, access the Urgent Care Assistance Card for reference.
Updated: 3/1/2022 11:10:57 PM