Telehealth Services
Telehealth services are allowed under CCN as long as the telehealth service provider meets all applicable requirements. All telehealth services must comply with state regulations and any additional criteria established by VA or TriWest. This may include Veteran culture training, platform compatibility, and compliance with billing and medical documentation submission and timeframes. The requirements for the provision of telehealth services include:
The telehealth provider must be licensed in the state in which the beneficiary is located.
State licensing entities with jurisdiction over the telehealth service provider and the beneficiaries' care must not prohibit telehealth for that particular service or provider type. State requirements must be followed at all times.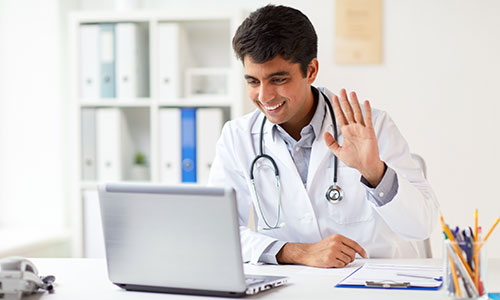 The telehealth provider must be appropriately licensed and credentialed according to VA and TriWest requirements.
The telehealth provider must leverage technology to personally and meaningfully provide the services via telehealth and not delegate this responsibility to staff that do not meet VA or TriWest requirements.
Videoconferencing and other technology platforms used for telehealth services must have the appropriate verification, confidentiality, and security parameters necessary to be properly utilized for the purpose and must meet the requirements of HIPAA Privacy and Security Rules. Applications such as FaceTime or Skype designed for general-purpose video conferencing, and not specifically for healthcare purposes may not meet such requirements.

Audio and video transmissions must be secured using point-to-point encryption that meets healthcare industry standards.
Providers shall not utilize software that allows multiple concurrent sessions to be opened by a single user.
Protected Health Information (PHI) and other confidential patient data shall only be backed up or stored on secure data storage locations approved for this purpose and compliant with HIPAA rules.
Any telehealth should be delivered through technology and connectivity with sufficient bandwidth and resolution to ensure the quality of video and/or audio receiving is sufficient to effectively deliver services to the patient.

The telehealth provider must comply with all applicable federal and state laws, rules and regulations governing the issuance of prescriptions for controlled substances at both the provider's site and the patient location. Prescriptions must also otherwise adhere to VA and TriWest requirements under CCN.
All billing and claims requirements must be met for the provider to be reimbursed. Claims must include Place of Service "02" and list the provider that actually rendered the service.
Both the telehealth provider and the patient's location, including city/town, state and ZIP code, must be documented in the medical records for the date of service.
Please note that any waiver of any telehealth restrictions by VA pursuant to COVID-19 is temporary and does not alter or supersede the guidance or instructions by any applicable state licensing authority.
If you are interested in providing telehealth care, please email TriWest Telehealth at telehealth@TriWest.com.
Updated: 8/30/2022 11:34:25 PM