IMPORTANT! We've been made aware of a possible recruiting scam. Please read this important message to protect your personal information while applying for a career at TriWest.
Should you be contacted about an employment opportunity at TriWest, please be aware that TriWest recruiters will never communicate with any employment candidate or any other member of the public through a "@gmail" email address or conduct business in a Google Hangout.
A Career That's Far From Ordinary
Do you have a passion for serving those who served?
At TriWest Healthcare Alliance, we have proudly provided access to health care for our nation's heroes since 1996. We are dedicated to giving back to our nation's Veterans. Learn more about TriWest Healthcare Alliance.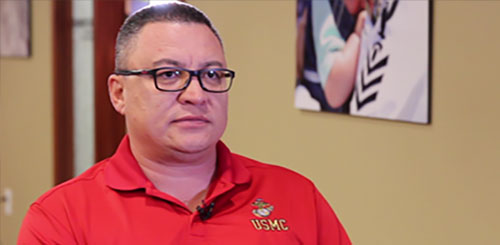 "When I got out of the Marine Corps I wanted to find somewhere to work that made me feel whole again. I was looking for a company that dedicates themselves to Veterans. TriWest does that. From the top down – the people here are passionate about giving their absolute best for others."
~ Phillip, U.S. Marine Corps Veteran and TriWest Employee
Why Join Our Team?
TriWest Healthcare Alliance employees who are dedicated and willing to learn have opportunities to:
Serve those who have served
Our nation's Veterans deserve the very best health care and services
Be a part of something special
Show your love of country through a job that makes a difference
Be recognized and rewarded
Receive recognition and awards from leaders and peers
Move up in the company
Learn, grow, excel at your own pace
Overtime hours available
Extra hours for those who want to work more, earn more
Serve the community
Programs and Volunteer Time Off benefits to give back to Veteran and military communities where you live and work
TriWest President and CEO Dave McIntyre shares his thoughts about the importance of our work and who we are privileged to serve.
NOTICE: TriWest Healthcare Alliance is proud to be an Equal Opportunity Employer providing a smoke-free, drug-free environment. Applicants must be able to pass a drug test and background investigation.
TriWest is committed to making our application process accessible for individuals with disabilities. To request assistance with the application process, please e-mail TWCareers@TriWest.com. We also comply with the Employee Rights and Responsibilities under the FMLA.
"We are Committed to Serving Military and Veteran Communities.
It's Who We Are. It's What We Do."
Discover a new mission with TriWest.
TriWest offers generous total compensation.
Updated: 6/30/2021 2:21:40 PM