Operation Treat a Veteran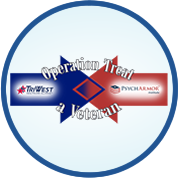 Fewer than 1 percent of our citizens are serving in uniform and many Americans are unfamiliar with military life and culture. Operation Treat a Veteran (OTaV) gives providers a better understanding of this culture and community, which can alleviate many of the challenges Veterans and Service members encounter when seeking health care.
The Department of Veterans Affairs (VA) Desert Pacific Health Care Network, Center for Deployment Psychology, PsychArmor Institute and TriWest joined forces to create a program that expands Veterans' access to timely, high-quality health care services beyond VA by preparing civilian providers to most effectively serve Veterans. OTaV allows providers to learn about Veteran and military culture, health care issues and specific treatment methods.
OTaV is a free online training program available to TriWest's community-based health care providers who would like to learn more about treating Veterans while increasing referrals through the Veterans Choice Program.
OTaV includes the first ever full-length online training in evidence-based treatments for Post-Traumatic Stress Disorder (PTSD) in Veterans. The program is made up of three learning paths, with four levels of training, that allow providers to learn about Veteran and military culture and build confidence in their ability to treat Veteran patients. Providers can accomplish this while earning free continuing education (CE) credit. The learning paths include:
Post-traumatic stress specialty referrals
Comorbid conditions affecting Veterans
Women's health specialty referrals
Each level of completion corresponds to a level of patient acuity. With the completion of each level, TriWest will refer Veterans who require primary or specialty care, or the treatment of PTSD, with either Cognitive Processing Therapy or Prolonged Exposure.
The training is optional for all community-based providers in TriWest's regions, and the level of completion achieved will be at the discretion of the individual provider. Providers will also have access to VA's optional courses through PsychArmor for additional CE credit, as well as VA's PTSD Consultation Program, which is staffed by experts from the National Center for PTSD, for ongoing consultation via phone or email.
We are collectively committed to working together to raise awareness and eliminate the gaps for Veterans seeking health care or assistance.