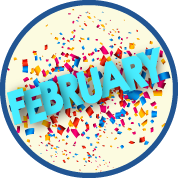 Provider Pulse
February 2019
Celebrate our Presidents and our Veterans
President's Day is a federal holiday that honors all U.S. presidents on the third day of February. At TriWest, we pay tribute to our Veterans every day of the month. In this month's Provider Pulse, we highlight the many educational opportunities to gain knowledge of the VA programs through TriWest's webinars. We also offer a reminder to include the authorization number with a prescription. Read all about these topics, and more, below.
In This Edition:
Learning Opportunities through TriWest's Webinars
A reminder that you can learn about the Department of Veterans Affairs (VA) Patient-Centered Community Care (PC3) program and Veterans Choice (VCP) Program with TriWest's live, interactive webinars. Expansion education webinars for Regions 1, 2 and 4 (former Health Net regions) as well as existing education for Regions 3, 5 and 6, are scheduled through March 2019. View a map of PC3 and VCP Regions.
As a new provider in an expansion Region, some VA processes and procedures will differ for you. Specifically, the processes for appointing and medical documentation returns may be different in the expansion Regions. Please take an expansion-related training webinar to become familiar with these procedures. Here is a list of topics for both Expansion and Existing provider training:
Regions 1, 2 and 4 – Expansion Education
Welcoming and Onboarding
Intro to PC3 & VCP – New Providers
Appointing & Authorization Pathways
TriWest Secure Provider Portal Training
Intro to Billing Processes & Procedures – New Providers
Billing & Documentation Review – Returning Providers
Intro to Medical Documentation Processes – New Providers
Behavioral Health
Regions 3, 5 and 6 – Existing Education
Intro to SEOC Authorizations
Intro to PC3 & VCP Programs with Portal Demonstration
Intro to Billing Processes
Behavioral Health
Intro to Medical Documentation
Alaska PC3 and VCP Processes
The expansion processes do not apply to existing providers within TriWest's original operating areas (Regions 3, 5, and 6). Therefore, if you're a provider in TriWest's original operating area, do not sign up for the expansion-specific training.
These webinars can be accessed on our new TriWest Learning Center on our Availity®* Payer Space at www.availity.com as well as www.triwest.com/provider. To sign up for webinars:
Go to www.availity.com.
Click Login to log in to the Availity Provider Portal
In the portal, click Payer Spaces | TriWest
On your TriWest Payer Space page, Applications tab, click "TriWest Learning Center"
Sign up for the webinar(s) of your choice
Last fall, TriWest agreed to support VA in administering PC3 and VCP/Choice nationwide after Health Net Federal Services' (HNFS) contract ended Sept. 30, 2018. TriWest is offering specific expansion training to new providers in expansion Regions 1, 2 and 4 via the TriWest Learning Center on Availity.
*Availity is a registered trademark of Availity, LLC | All Rights Reserved
Please Include Authorization Number with Prescription
Under VA's PC3 and VCP programs, VA is primarily responsible for supplying Veterans with medications that are not urgent or emergent. All medications must be prescribed in accordance with the VA National Formulary.
Some VA Medical Centers (VAMCs) have indicated to TriWest that they must receive an authorization letter/number with a pharmacy prescription. Otherwise, VA officials cannot determine if the originating care was authorized and if the medication can be approved/provided.
Please follow these prescription guidelines to make it easier for both VAMCs and you to properly care for our Veterans:
You may write a prescription for a Veteran as part of an episode-of-care authorized by TriWest.
Medications may be filled in person at a VA Pharmacy or mailed to the Veteran's home through the Consolidated Mail Outpatient Pharmacy (CMOP)
Always fax both the authorization and prescription to the appropriate VAMC. If a Veteran prefers to take their prescription to the pharmacy, they will also need to bring a copy of the authorization.
If a Veteran needs a medication that's not on VA's National Formulary, please follow these procedures:

Contact their local VAMC and request a Formulary Request Review Form.
Fill out the form and return it to the VAMC.
Wait for approval or denial. Turnaround time may take around 96 hours. If approved, you may proceed with prescribing the medication.
We recommend you do not provide samples of medications to the Veteran if it is non-formulary. Giving samples of a medication is not a justification for non-formulary continued use and will likely lead to a denial of your request.
You may also prescribe a Veteran medication for urgent or emergent care. In this case:
Write a prescription for a 14-day supply without refills.
If additional medication is needed after the 14-day supply, write a second prescription to be filled at a VA Pharmacy.
If the prescription is for a non-formulary drug, you may write an initial 14-day supply. However, if the medication needs to be continued, you need to contact the local VAMC and fill out a Formulary Request Review Form, as outlined above. The use of the 14-day supply of a non-formulary medication will not affect the likelihood of approval of a non-formulary request.
For more information regarding general pharmacy information, please refer to TriWest's Provider Portal to access information about prescribing medicine for Veterans under VA's PC3 and Choice programs.
Critical Access Hospitals Compliance with CMS Policies
TriWest Healthcare Alliance and its claims processor, WPS Military and Veterans Health (WPS MVH), have discovered that some Critical Access Hospitals (CAH) have been incorrectly billing for services by using type of bill code (TOB) 131 instead of TOBs 851-857. This is not in compliance with guidance from the Centers for Medicare and Medicaid (CMS). Historically WPS MVH has paid some of these claims. However, beginning Feb. 28, WPS will reject or deny claims from CAH providers that incorrectly bill with TOB 131.
About CAH TOB Codes
TOB codes are three-digit codes located on the UB-04 claim form that describe the type of bill a provider is submitting to a payer, such as Medicare, Medicaid or an insurance company. This code is required on line 4 of the UB-04.
According to Medicare, the four-digit alphanumeric code (after a leading zero which Medicare ignores) provides the following three specific pieces of information in this order:
Type of facility – in this case the number 8 indicates Special facility or hospital (CAH), Ambulatory Surgical Center (ASC), surgery (requires special second digit).
Type of care – here the number 5 indicates CAH.
Frequency – this should be any number from 1 through 7.
To ensure your claims are submitted correctly, please remind billing representatives to use the correct TOB code and submit claims in compliance with Medicare policies. This will avoid any denials and ensure you are paid in a timely manner.
Thank you for your continued commitment to providing quality health care to our nation's Veterans. Your participation in the network serving America's Veterans is greatly appreciated.
PTSD Therapy Training Available for Providers
According to VA, Prolonged Exposure therapy (PE) is one of the most studied and most effective treatments for posttraumatic stress disorder (PTSD) and is one of the most highly recommended therapies in the VA/DoD Clinical Practice Guideline for PTSD.
The PTSD Consultation Program at the National Center for PTSD offers free training and consultation in PE to help make this evidence-based treatment for PTSD more available to Veterans in rural areas.
There will be three training sessions this year for up to 30 providers each. The first session is in White River Junction, VT for providers in Vermont, New Hampshire, eastern New York and southern Maine on Feb. 7-9. Training in Oklahoma and in Montana will be held later this year.
The three-day training will include:
Training in PTSD assessment
Training in PE therapy
A therapist manual and patient workbook
Free continuing education units
Attendees will receive ongoing support and consultation including weekly phone consultation for the provider's first two cases and advice from experts at the PTSD Consultation Program. Note: a $50 registration fee is required which will be returned upon completion of the training. The cost of transportation, food and lodging is not included.
To request application information, please email PTSDconsult@va.gov.
The National Center for PTSD continues to offer consultation on any question having to do with treating a Veteran with PTSD to providers. The center completes over 2,000 consultations a year. The services of the PTSD Consultation Program are always available to any provider treating Veterans, regardless of participation in these trainings. Learn more at www.ptsd.va.gov/consult.
Upcoming Provider Handbook Changes
There are no planned changes to the Provider Handbook for March 2019
Updated: 8/2/2022 3:33:22 PM