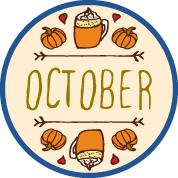 Provider Pulse
October 2017
Welcome to October!
Who's ready for pumpkin spice lattes and Halloween decorations? While we may not have fun holiday items to offer you, we are bustling with news and announcements. From an important update on claims filing deadlines, to a new requirement when uploading medical documents to the portal, keep reading to learn what's cookin'!
IMPORTANT: Update to Claims Filing Deadlines – Phase II
As of Dec. 1, 2017, TriWest will deny any claims with a date of service prior to Sept. 30, 2016.
The filing cutoff is approaching! Please be aware.
This is the second phase of our communications about timely filing requirements – reminding providers of restrictions that could impact your practice revenue. In the past, TriWest and Wisconsin Physicians Service (WPS) allowed and paid for claims that exceeded the limit. This has now changed.
Following Medicare guidelines, but not Medicare timeframes
VA program filing requirements are shorter than Medicare's to allow better monitoring of budget. Because of the shorter timeframe, TriWest encourages claims submission within 30 days.
What does this mean for you?
We want to reach all providers with this message, ensuring you have the time to submit outstanding claims.
Outstanding claims with dates of service (DOS) prior to Jan. 1, 2016 are denying for non-compliance with timely filing starting Sept. 1, 2017.
Outstanding claims with a DOS from January through Sept. 30, 2016 must be submitted by Dec. 1, 2017 to be considered for payment.
Claims with DOS from Oct. 2016 through June 30, 2017 must be submitted by Feb. 1, 2018 to be considered for payment.
For all claims with a DOS on or after July 1, 2017, TriWest will enforce the 180-day timely filing requirement for all claims. This means that any claims with DOS on or after July 1, 2017 must be submitted within 180 days to be considered for payment.
If you have outstanding claims, send them now via the process below. And remember, you may not bill the Veteran directly for any claims denied due to non-compliance with the timely filing limit.
Moving forward, TriWest will adhere to the 180-day timeframe. Therefore, we encourage you to submit claims within 30 days of rendering services. Following the recommended 30-day timeline will help to increase your cash flow and reduce carrying costs!
Claims submission process
Below is a quick refresher for the two-step process for submitting claims to TriWest:
Upload Medical Documentation to TriWest Provider Portal

Register for a secure account on TriWest's Provider Portal at www.triwest.com/provider and upload medical documentation directly to the system.
Documents up to 5 MB can be uploaded in PDF or TIF format
If unable to access the Provider Portal, fax medical documentation to TriWest at 1-866-259-0311. Behavioral Health documentation should be faxed to 1-866-284-3736.

Submit Claims to WPS
TriWest uses WPS for all claims processing. After submitting medical documentation to TriWest, send claims either:

Electronically. Set up an EDI to submit electronic claims by calling WPS at 1-800-782-2680 and selecting Option 1.
Via mail. Mail paper claims to the following:
WPS-VAPC3
PO Box 7926
Madison, WI 53707-7926
Need more information? Check out the Claims Quick Reference Guide on www.triwest.com/provider!
New Requirement! Uploading Choice Medical Documents to Portal
Have you noticed some changes when submitting your medical documents through the TriWest Provider Portal?
That's because TriWest recently updated certain requirements for medical documentation that's submitted online. These changes apply to the Veterans Choice Program only.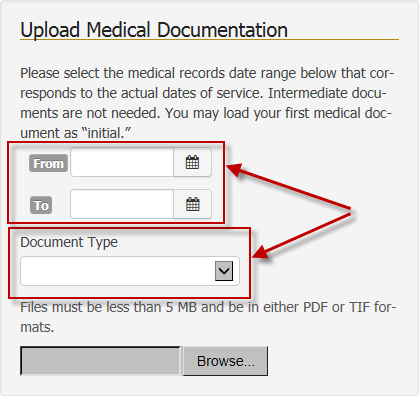 What Changed?
You must now select the date range for the dates-of-service that correspond to your medical documents. The dates you select MUST be within the authorized "valid dates" on your authorization letter.
You also must select the type of document you're submitting from a drop-down menu. We've included a chart at the end of this article to help you determine which "document type" you should choose.
Why Were These Changes Made?
Choice medical documents will now be sent directly to the Department of Veterans Affairs (VA) when you upload them through the portal, rather than stopping at TriWest for review first. This has some benefits for you—the provider.
Less time spent on administrative tasks (e.g. calling TriWest to see if your medical documents were received, or confirming format requirements).
A more streamlined and timely process for you, VA providers, and the Veteran to share medical documentation needed for coordination of care.
Remember, if you're uploading medical documents related to care under the Patient-Centered Community Care Program (PC3), these new requirements do NOT apply. They are for Choice only.
'Document Type' Definitions
Below, you will find a chart of the "types" of medical documents you will be able to choose from the drop-down menu. The chart also outlines how to determine what constitutes each "type" of document.
| Document | Type | Setting When the document is |
| --- | --- | --- |
| Initial Outpatient | Outpatient/Office | Chart notes or report from the very first visit of the authorization date range. |
| Final Outpatient | Outpatient/Office | Chart notes or report from the very last visit of the authorization date range. |
| Initial and Final (Outpatient) | Outpatient/Office | Chart notes or report for care that will be only one date of service. "One and done" examples would include consultations for second opinions also known as evaluation and recommendation only. |
| Inpatient Discharge Summary | Inpatient ONLY | The discharge summary from an inpatient hospital stay; including associated lab, imaging and pathology reports. |
| Lab Reports | All | Lab reports for studies performed during an inpatient hospital stay or as part of an outpatient service. This is for stand-alone lab documents only. If the report is embedded in another type of medical document please do not use this selection. |
| Imaging Reports | All | Radiology reports from imaging studies performed during an inpatient hospital stay or as part of an outpatient service. This is for stand-alone report documents only. If the report is embedded in another type of medical document please do not use this selection. |
| Pathology Reports | All | Pathology reports performed in relation to an inpatient hospital stay or as part of an outpatient service. This is for stand-alone pathology documents only. If the report is embedded in another type of medical document please do not use this selection. |
COMING SOON: TriWest Provider Portal Moving to Availity
Heads up! In the coming months, TriWest will begin transitioning its Provider Portal to Availity. If you already have an account on Availity, this means you'll be able to access the TriWest Payer Space in addition to the other health plans you accept. If you do not currently use Availity, we recommend you head over to Availity and sign up for an account. To learn more about this upcoming transition, please visit www.availity.com/triwest.
How TriWest, VA are Tackling the Opioid Crisis
More than 90 Americans die of opioid overdoses each day, according to the National Institute on Drug Abuse.
The institute calls it "a serious national crisis that affects public health as well as social and economic welfare." In response to this issue, TriWest and VA have partnered to help curb its impact on Veterans.
TriWest: Contracting More Treatment Clinics
TriWest is actively building and expanding its network of methadone treatment clinics. These clinics specialize in recovery efforts for opioid addictions.
"A robust network of methadone maintenance clinics is essential for effective treatment of opioid use disorders resulting from addiction to pain medications or heroin," said Blake Chaffee, PhD and TriWest Vice-President of Integrated Health Care Services. "Methadone maintenance therapy is a daily treatment regimen, so clinics need to be easily accessible for Veterans."
VA: Opioid Safety Initiative Toolkit
VA recognizes the challenges associated with effectively managing pain for Veterans while safely prescribing opiate-based medications. Therefore, the National Pain Management Program office developed a task force to compile a set of rules to help guide providers.
The result is the Opioid Safety Initiative Toolkit, which VA has published on its website for all providers to access and use. Both TriWest and VA encourage community care providers to review these materials and learn how they can help combat the opioid crisis in the U.S.
VA TRAIN Delivers Free, VA-Approved Training on Veteran Health
The Veterans Health Administration (VHA) is now providing non-VA health care providers with crucial training on Veteran topics through the VHA TRAIN portal.
How to Register
To create an account, go to the VHA Training website: https://www.train.org/vha/user/register. After registration, you will need to complete your profile and define your groups. To access additional Veterans Health Administration, Employee Education System content, you should add the VHA Portal under "Groups".
This portal allows VHA to make in-demand and necessary training programs and products available outside the VA firewall. The VHA Employee Education System (EES), an education and training department internal to VHA, is making these training products and programs available to the public for the first time.
VHA TRAIN users have the ability to leave feedback and rate courses taken so that other users can find popular and highly rated content. There is also a complete course catalog of all content currently on VHA TRAIN. The catalog is sorted by heath topic and is updated monthly. Users can also subscribe to specific topics of interest on the EES subscription page to receive periodic VHA TRAIN eBlasts and other news tailored to specific areas of interest.
TRAIN is a free service of Public Health Foundation and operates through collaborative partnerships with state and federal agencies, local and national organizations, and educational institutions.
Through this site, users can:
Quickly find and register for many courses listed on TRAIN.org and participating TRAIN affiliate sites;
Track learning with personal online transcripts;
Access valuable materials, course reviews and discussions to improve learning experience;
Stay informed of the latest public health trainings for specific areas or expertise.
Most courses in TRAIN provide continuing medical education and/or continuing education unit credits. VHA TRAIN courses address emerging and hot topics related to Veteran health, including post-traumatic stress disorder (PTSD), military culture, opioid issues, geriatrics and extended care.
Updated: 8/2/2022 3:37:12 PM