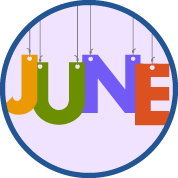 Provider Pulse
June 2017
Welcome to June!
Summer is here! With the change of season, we have a positive change to report, as well. We launched new standardized episode-of-care profiles to reduce the need for secondary authorization requests. Keep reading to learn all about it, and much more great news too.
In This Edition:
UPDATE: Less SARs, New Authorization Letters
If you are tired of the administrative burden of sending secondary authorization requests (SAR), we have good news! TriWest, in conjunction with the Department of Veterans Affairs (VA), is launching "standardized episode-of-care" (SEOC) profiles.
The change is beginning with nine specialties and will roll out to be more inclusive over time. The goal is to provide an authorization letter with broader approval of services via "super profiles," reducing the need for SARs. This new approach will reduce delays in care and allow the provider to render medically necessary services.
Here's How the SEOCs Will Work
Depending on your specialty (i.e. cardiology, ophthalmology, dermatology, etc.), the same SEOC will be authorized to you every time we send the Choice authorization letter.
We will provide, in plain language—also called a "narrative"—what is included in the authorization and how many visits are approved.

The SEOCs may authorize more services than necessary to meet the Veteran's clinical needs, so only provide those services that are medically necessary, and bill for the services rendered.
To see the services included in each SEOC authorization, please visit www.triwest.com/provider/authorization-codes and review the narrative SEOC documents.

As backup support only, we will also supply a list of CPT codes on our website.
The narrative (NOT the CPT codes) will be your main go-to source of information when determining what's authorized. If the service, or type of provider needed, is included in the narrative, it's covered. If not, then you may submit a SAR.
Due to these modifications, you may start seeing the format of your authorization letters from TriWest change. If so, rest assured that these are positive steps forward were prompted by your feedback on the administrative burden associated with processing SARs.
What are the Nine Specialties?
Below are the nine specialties that will begin receiving SEOCs in their authorization letters:
Chiropractic Care
Mammography
Maternity
MRI/MRA
Occupational Therapy
Occupational Therapy—functional capacity-drive evaluation
Ophthalmology
Optometry
Physical Therapy
We'll send more information on the new SEOCs as VA rolls them out. In the meantime, if you're still not sure whether you need to submit a SAR, visit our SAR decision tool at www.triwest.com/provider-SAR.
Go E3! Cut Paper Claims and Save Money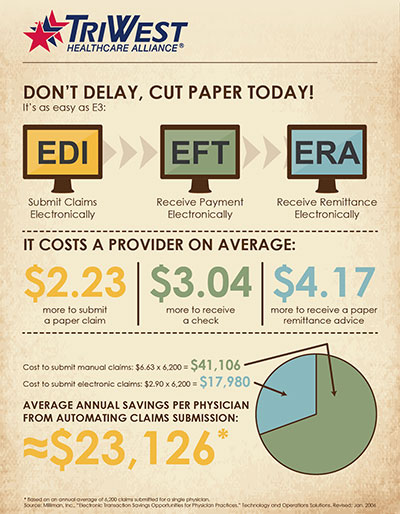 Did you know a health care provider can save about $23,120 each year, just by cutting paper from the claims process?*
That's why TriWest is encouraging providers to go E3 by visiting https://www.wpsic.com/edi/edi-forms.shtml. What is E3, you ask? Let us explain.
Don't Delay, Cut Paper Today!
It's as easy as E3:
EDI – submit claims electronically
EFT – receive payment electronically
ERA – receive remittance electronically
In order to go E3, a provider enrolls for all three–EDI, EFT and ERA–to cut paper completely from the claims process.
Benefits of Going E3
The greatest advantage of going E3 is the cost savings. As the chart shows, a provider will pay on average:
$2.23 more to submit a paper claim;
$3.04 more to receive a paper check; and
$4.17 more to receive a paper remittance advice.
Additionally, when providers go E3, they're not waiting for mail to arrive or wasting time depositing a check. Cutting paper will streamline the entire claims process.
Go E3 today by visiting https://www.wpsic.com/edi/edi-forms.shtml!
*Source: Milliman, Inc., "Electronic Transaction Savings Opportunities for Physician Practices." Technology and Operations Solutions. Revised: Jan. 2006
What's the Difference Between PC3 and Choice?
As a TriWest provider, you participate in one, or both, community care programs from VA.
But what's the difference between the two: the Patient-Centered Community Care Program (PC3) and the Veterans Choice Program (VCP)? Both programs fill the gaps when VA lacks the internal resources to treat a Veteran, or is unable to provide care in a timely manner.
However, the nuances between the programs may still confuse you. Below, we attempt to break down the programs and compare them.
PC3
PC3 is the original community care program developed by VA, and TriWest was awarded the contract to administer PC3 in 2013.
Some of the distinctive factors of PC3 include:
If you're a PC3 provider, you physically signed a contract with TriWest, which makes you "in-network." The contract outlines all aspects of your agreement, including payment and reimbursement terms.
PC3 is VA-driven. This means VA will usually determine if it can meet the health care needs of a Veteran, and if not, make the decision to refer the Veteran to the community.
Medical documentation must be submitted to TriWest after every visit. Additionally, for outpatient care, providers only have 14 calendar days to send medical documentation after each visit (under the VCP, providers have 30 days).
VCP or "Choice"
Although PC3 started making headway in providing timely, quality health care for Veterans, it still wasn't happening fast enough. Therefore, Congress introduced, and President Obama signed into law, the Veterans Access, Choice, and Accountability Act. Section 101 of that act established the Veterans Choice Program (VCP), which went live on Nov. 5, 2014.
The VCP is therefore the newest addition to PC3.
Some of the distinctive factors of the VCP, also called "Choice," include:
If you're a VCP provider, you didn't sign a contract, but entered into an agreement (usually verbally and over the phone) with TriWest. The moment you agree to see a Veteran through the VCP, you're agreeing to abide by the VCP Terms and Conditions set by VA for each authorization we send you.
The VCP is Veteran-driven. If VA is unable to provide care timely or at a reasonable distance, then the Veteran decides whether to use the VCP in the community. If the Veteran is referred out from VA, TriWest will contact the Veteran and confirm if he or she wants to use the VCP. If so, TriWest will make an appointment for the Veteran with a community provider. Distance-eligible Veterans may contact TriWest directly to request services in the community.
For medical documentation, VA requires providers only submit the initial appointment and end of episode-of-care records to TriWest. Providers should NOT submit documentation after every visit, and for outpatient care, they have 30 calendar days to submit instead of 14.
Is Your Authorization for PC3 or the VCP?
Each authorization we send you will clarify on the cover sheet whether the care is through PC3 or the VCP. If you're not sure, log in to your secure account on the Provider Portal at www.triwest.com/provider. Look up your authorization number and the Provider Portal will clarify which program the authorization is through.
For more on the differences between PC3 and the VCP, review our "PC3 and VCP Comparison Fact Sheet."
When to Consider Resubmitting Your Claim
If you sent your claim to TriWest via Wisconsin Physicians Service (WPS) and are still waiting on payment, how long should you wait before deciding to resubmit the claim?
Sixty days–the answer is 60 days from the date of your original submission. TriWest pays clean claims in 30 days. We don't encourage providers to re-submit claims–rather, call TriWest. However, if that 30-day mark has passed, and you decide resubmitting is the way to go, wait until day 60.
This gives TriWest a little extra time; otherwise, you run into the risk of duplicate denials. A duplicate denial is a claim denial because you submitted the same claim twice. Duplicate denials can bog down the TriWest claims system and cause unnecessary frustration for providers—another reason TriWest advises against re-submitting. Submitting through EDI is one way you can be confident that the claim was indeed received and in-processing.
To learn more about the claims submission process, please review our "Provider Claims Quick Reference Guide" on the Provider Portal at www.triwest.com/provider.
Updated: 8/2/2022 3:36:45 PM