TriWest Attends Tribal Veterans Symposium in Support of Native American Veteran Care
Phoenix, AZ (November 18, 2022) – The Arizona 4th Annual Statewide Tribal Veterans Symposium was held in Flagstaff, Ariz., Nov. 8-9 where TriWest Healthcare Alliance (TriWest) was honored to attend and participate in enthusiastic support of the important issues of improving and maintaining Arizona Tribal Veterans' health, health care and wellness.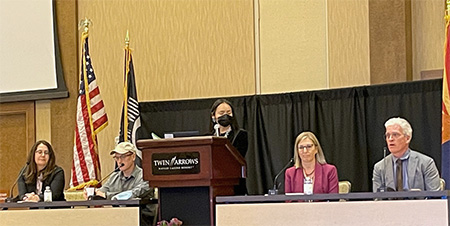 Arizona Veterans Affairs leaders participate in a Q&A session at the 4th Annual Statewide Tribal Veterans Symposium.
This year's Tribal Veterans Symposium theme was: "One Team One Fight: Resilience and Renewal."
The symposium is a free event for Native American Veterans, Service members and family members, and Arizona providers and stakeholders to meet, learn, and share information to better serve Tribal Veterans who have sacrificed and served the nation.
The two-day event provided a forum for presentations on Veterans program and service awareness, enhancing professional growth, and new networking opportunities.
"It was a privilege to attend this year's Statewide Tribal Veterans Symposium and affirm TriWest's ongoing support for exceptional Native American Veteran health care, which these honored Tribal Veterans have earned and deserve," said Pat Shipley, Southwest Regional Director for TriWest.
The symposium, established in 2018, is a collaborative effort between Health Choice Arizona Tribal Program, Phoenix Veterans Affairs Health Care System, and the Office of U.S. Rep. Tom O'Halleran. Blue Cross Blue Shield of Arizona was also a major sponsor.
The symposium was created to address essential health care and wellness-related topics important to Tribal Veterans and their communities. In addition to topics and presentations focused on issues impacting Tribal Veterans and Native American Veteran communities, the event featured information tables to connect and distribute essential materials related to Tribal Veteran health care and wellness.
"TriWest has a unique opportunity to reach out to this population with a special understanding of their culture and their needs. It is a privilege we embrace," Shipley emphasized.
The symposium also featured a ceremonial Gourd Dance and Cultural Gathering for guests to experience Native American customs and celebrations.
TriWest has long been honored to join and participate in events supporting Native American Veterans as part of its mission to serve those who have sacrificed and served for the defense of the nation.