Heard Museum's 10th Anniversary Sunset Tribute Celebrates First American Indian Veterans National Memorial
Phoenix, AZ (November 15, 2022) – On Veterans Day 2022, the Heard Museum, a Phoenix-based art museum dedicated to the advancement of American Indian art, celebrated the 10th Anniversary Sunset Tribute of its American Indian Veteran National Memorial commemorating more than three centuries of sacrifices and service of Native Americans for the nation.
In 2012 the Heard Museum opened the first national memorial honoring American Indian Veterans and their sacrifices and service to the nation. This year's anniversary ceremony attracted numerous guests, including Native Americans in U.S. military uniforms, while others dressed in ceremonial attire.
The Veterans Day Sunset Tribute Keynote Speaker was U.S. Army Col. (Ret.) Joey Strickland of Choctaw and Cherokee Nation descent, and Vietnam War Veteran and Secretary of the Louisiana Department of Veterans Affairs.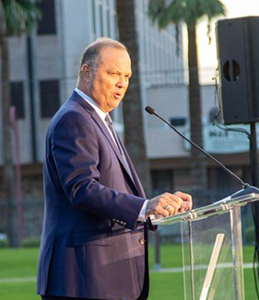 Terry J. Moulton, TriWest Sr. Advisor to the
President and CEO.
TriWest Healthcare Alliance (TriWest) was also honored to participate in the Sunset Tribute as a presenting sponsor, where Terry J. Moulton, U.S. Navy Rear Admiral (Ret.) and TriWest Senior Advisor to the President and CEO, served as a guest speaker during the tribute.
Moulton's address to ceremony guests emphasized TriWest's history of providing initial funding and continuing support for the nation's first American Indian National Veterans Memorial honoring Native American service and sacrifice.
"In 2012, TriWest had the great privilege of providing the Founding Support for the memorial designed by Scottsdale-based John Douglas Architects," Moulton said in remarks at the ceremony. "TriWest is thrilled to be a presenting sponsor for this evening's event," he added.
"I know many of you who represent our country are in the audience here today. This segment of the population – those of Native descent – are special and provide a remarkable example of service to country. We salute you and thank you!" he emphasized.
Other ceremony speakers included U.S. Army Col. (Ret.) Joseph Abodeely, Vietnam War Veteran and Director of the Arizona Military Museum; and U.S. Marine Corps Sgt. (Ret.) John Scott II, Deputy Director of the Arizona Department of Veterans Affairs.
Kristi Bulla, TriWest Strategic Workforce Engagement Manager, also attended the ceremony and remarked on the Sunset Tribute as rewarding and impressive.
"The Heard Museum put on a festive and inspirational tribute to our Veterans, and specifically those of Native descent," Bulla noted. "After the Tribute speakers, the Apache Crown Dance Group amazed the audience with an 'Honor Dance' for all Veterans."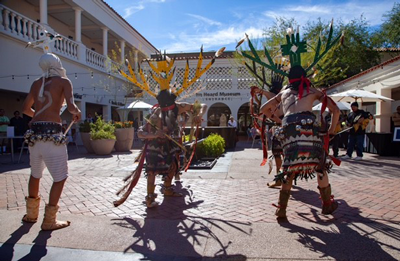 Native American Apache Tribe members perform a ceremonial dance.
"The amazing ceremonial dance was followed by a fun reception in the Heard Museum's Central Courtyard featuring delicious food and special acoustic guitar performances," she added. "Arron White, a Native American Grammy-nominated musician, and Jesse Valenzuela, an American rock musician and singer from the band Gin Blossoms, both performed for all of us. TriWest took great pride in our role as a sponsor for this momentous event!"
Coincidentally, on Veterans Day 2022, the U.S. also formally dedicated its National Native Americans Veterans Memorial, honoring the military service of Native Americans. The memorial originally opened on Veterans Day 2020 on the grounds of the National Museum of the American Indian in Washington, D.C.
Following the Sunset Tribute ceremony, commemorative medallions were given to all Veterans in attendance.
TriWest is honored to join and participate in events supporting Native American Veterans as part of its mission to serve those who have sacrificed for the defense of the nation.