The American Legion Honors TriWest with Large Employer of Veterans Award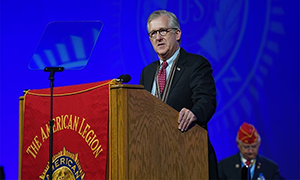 TriWest President and CEO David J. McIntyre, Jr.,
addresses the American Legion convention attendees
Phoenix, AZ (September 1, 2021) – TriWest Healthcare Alliance, headquartered in Phoenix, Arizona, announced the company has been honored by The American Legion with the prestigious Large Employer of Veterans Award in recognition of the company's strong support of Veteran employment. Earlier this year, TriWest also received The American Legion's local chapter award in the state of Arizona.
The majority of the TriWest workforce is made up of Veterans, military retirees, military spouses, Guard and Reserve members, and their spouses. The award was presented to TriWest President and CEO David J. McIntyre, Jr., at The American Legion's 102nd annual national convention in Phoenix today.
"We are deeply honored to be recognized by The American Legion for our hard work to provide rewarding employment opportunities to America's Veterans," said TriWest President and CEO David J. McIntyre, Jr. "Hiring Veterans, who have honorably served our great nation in uniform, and providing them with an opportunity to continue to support their fellow Veterans has always been central to who we are as a company. For 25 years, serving America's military and Veterans has been our sacred mission, and we are privileged to be dedicated to this important work."
TriWest Healthcare Alliance is honored to be recognized for its dedicated work in support of U.S. military and Veterans. In July, TriWest was recognized by U.S. Veterans Magazine as a Top Veteran Friendly Company. In May, the Employer Support of Guard & Reserve honored TriWest with its prestigious Extraordinary Employer Support Award for TriWest's strong support of the National Guard and Reserve community.
Currently, TriWest is privileged to support the health care needs of our nation's Veterans, offering access to quality provider networks and excellent customer service through the Department of Veterans Affairs (VA) Community Care Network in Regions 4 and 5. For 17 years, TriWest administered the Department of Defense TRICARE program.
"We couldn't do this important work without the passion and commitment of our employees, all of whom are dedicated to ensuring our nation's military and Veterans receive the quality care they have earned, and so rightfully deserve," said McIntyre. "We will continue to innovate as a company, and we look forward to serving our military and Veterans for many years to come."