TriWest Spotlights Women-Owned Small Business Partners for National Small Business Week
October, 2020 – Each year, the U.S. Small Business Administration (SBA) highlights the impact that small businesses have across our country, and hosts National Small Business Week (NSBW) with a conference and educational opportunities. This year's theme – "Recovery, Adaption, and Innovation 2020" – aligned closely with what many small businesses are dealing with this year during COVID-19.
According to the SBA, the federal government's goal is to award at least five percent of all federal contracting dollars to women-owned small businesses each year. TriWest Healthcare Alliance is committed to assisting the government in meeting its goals in the critical area of supporting small and disadvantaged businesses.
In honor of NSBW 2020, TriWest shines a spotlight on two of its women-owned small business partners, Axis Employment Services and Image Property Services, to share more about each business, how they have successfully met their business commitments, and how they've navigated the COVID-19 pandemic.
Axis Employment Services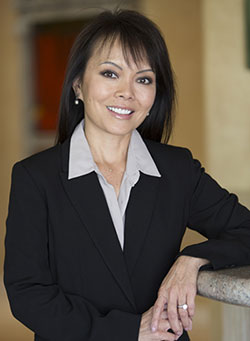 Tran Tran, CEO of Axis Employment Services
When you've found your ideal career and a tragedy like 9/11 strikes, the only thing left to do is pick up the pieces as best you can, and start your own business. At least that's what Tran Tran, CEO of Axis Employment Services, a staffing solutions company specializing in fulfilling temporary staffing and permanent placement needs for a variety of industries, decided to do. "Sadly, the firm I was working for at the time was forced to close its doors," remembered Tran. "I felt it was time to start my own business. There were so many things I wanted to do differently but couldn't when I worked for someone else."
From the tragedy in 2001 that led to starting her own business, to facing another tragedy today, COVID-19 has drastically impacted her current business. "Companies initially ceased all hiring, facing uncertain times. Thankfully, Axis has maintained a stable group of employees, and we are starting to see an uptick in hiring again," explained Tran.
"We've had to get creative with our recruiting process, as many candidates fear coming to an enclosed office," said Tran. "We have driven to meet with our candidates outside their homes, at coffee shops, and anywhere else necessary to make sure we are fully staffed and ready to meet our clients' needs."
Tran is known at TriWest as someone to reach out to when challenging staffing needs arise. Tran recalled her first experience working with TriWest: "In June of 2006, we received a call about an urgent need for a position that, seemingly, couldn't be appropriately filled."
"At the time," said Tran, "we were not an approved vendor. A former colleague who was working at TriWest at the time, reached out. Axis presented a qualified candidate to TriWest who ended up joining the team within the week. Word quickly spread and we received another tough-to-fill request from another department. We successfully filled that one, too! With the help of the amazing managers and Human Capital team at TriWest, Axis became an approved vendor and, within three years, we were the preferred staffing company at TriWest," explained Tran.
"The relationship we have with TriWest is one that we treasure and hold dear to our hearts. Not only is it a great company to work for – our candidates often tell us how much they love it there – but the mission and customer service focus of TriWest mirror the culture and philosophy of Axis, especially towards our military personnel," expressed Tran.
The partnership TriWest has with Axis has been successful for years. "Axis is one of our most tenured staffing companies due to its professionalism and ability to understand our needs, match talent to our positions, and engage to understand any new staffing conditions with each new TriWest contract," said Kim Kasle, TriWest's recruiting manager.
Kasle went on to detail a recent interaction with Tran and her team. "Not long ago I was on a call with Tran and some of her associates related to our most recent contract award and our need to fill some positions. They asked relevant questions, were attentive, restated our needs to be sure they understood them, and committed to meeting the conditions required by our new contract."
Axis has been recognized for its work through awards like Top 10 Agency, Top Minority Business in Arizona, and Top Woman-Owned Business in Phoenix. She attributes the recognitions to the high level of quality and customer care they offer.
In 2012, the Minority Business Development Agency along with the U.S. Department of Commerce featured Axis Employment Services as a Top 3 Minority Business in Arizona. Most recently, in 2019, Heirs of the Republic, an organization that promotes patriotism and a deep respect for the military community, named Tran Entrepreneur of the Year.
Axis was certified as a women-owned business in 2004. "I have a personal bias for the SBA's programs because they have been a tremendous help for small businesses like mine," said Tran. "Oftentimes, we lack adequate resources, like financial support, that are available to large corporations. Many Women & Minority Business Enterprises (WMBE) have reported facing challenges like not being taken seriously by customers, peers, and lenders. With these programs in place, WMBEs can significantly leverage their status and increase revenue."
When asked about what she might advise other women business owners thinking of starting their own business, Tran said she would tell them to go for it. "I think that many women are hesitant to take the risk or leave the comfort of the salary and benefits of working for someone else," expressed Tran.
"But being your own boss and having the ability to make the decisions you know are right for you and your company? It's liberating and exhilarating! Make sure you surround yourself with great people that are smart and forward thinking, and who empower you to make great decisions."
When it comes to the reputation of a business, Tran said that all Axis clients have been referrals from other happy clients. "One credo I live and breathe by," said Tran, "is good business revolves around good people."
Image Property Services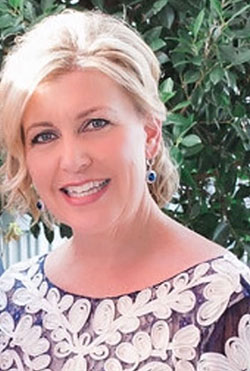 Mary Thul, Principal for Image Property Services
Image Property Services is a commercial building maintenance provider that TriWest has worked with for more than four years. "I first met Steve Georgoulis, TriWest Director of Facilities, through a professional association we're both members of," said Mary Thul, Principal for Image. Her experience spans two decades of work in the commercial building maintenance industry, having worked for regional janitorial firms, and eventually having started her first business in 2004. Her networking and professional experiences have been essential to her success during her career.
"Image has provided TriWest building maintenance services for two different office locations, including its corporate office with a C-wing, corporate departments, a call center environment, and a special medical assistance telecommunications department. I'm hopeful that as Image brings valuable added services to TriWest, opportunities will continue to grow with the company," said Thul.
Reflecting on working with Image, Georgoulis explained, "I've known Mary to be very supportive of other woman-owned businesses, and as someone who works tirelessly to meet the needs of her clients. She is very customer-oriented and has a very clear understanding of the needs of facilities management."
"In fact," noted Georgoulis, "Mary recently helped TriWest implement a recycling program which we've been eager to bring to life for some time. Image has also been instrumental in helping us better understand the benefits of daytime cleaning."
The COVID-19 pandemic has had an impact on everyday life, and on businesses. Thul acknowledged that 2020 has been challenging, to say the least. However, through this pandemic, Image has stood strong.
"Image is not new to pandemic planning, health, and safety requirements," noted Thul. "Image was founded on green environmental cleaning practices. Our company continues to put these cleaning practices into use during the pandemic. Image is CIMS-GB (Cleaning Industry Management Standard-Green Building), HHPC (Healthy High Performance Cleaning), and Day Cleaning certified," said Thul.
"Our experience and certifications have helped bring innovative solutions to this ever-changing commercial facility landscape. What I feel most proud of is our long-lasting disinfecting solutions that can disinfect a surface for up to 90 days. It is bio-degradable, non-toxic, non-allergenic and 100% sustainable," said Thul. "This is not a new solution, and has been used in hospitals, laboratories and U.S. military medical facilities. Image has been able to bring this over to the commercial market to help contain the virus threat and reduce budget cost overruns."
When asked what her advice would be to other women thinking about applying for the SBA certification, Thul replied, "Do it! Certifications are complicated, but it is so worth it. Just have your ducks in a row and apply for certification. As far as being an entrepreneur, there are challenges, but if you focus on what you know and can do, ask for help, listen to your customers, and surround yourself with mentors, you can be successful."
Tran and Thul are committed to exemplary customer service, and dedicated to continued innovation. In their day-to-day operations, both business owners have truly embodied the Small Business Week 2020 theme of "Recovery, Adaption, and Innovation."