Veteran-Owned Small Businesses are Part of the TriWest Family
Recently, veteran-owned businesses across the country were lauded for the work they do, and Veterans seeking to start their own ventures in entrepreneurship were provided with tools and resources to help them.
National Veterans Small Business Week seemed like an ideal time to meet with and learn from a few of TriWest's vendors who are also Veteran Small Business Owners.
Both The Predictive Group and Better Direct have been part of the TriWest family of vendors for years. The Predictive Group has worked with TriWest for more than 20 years, and Better Direct for more than ten.
"There is no question in my mind that working in partnership with Veteran-owned small businesses has been a fantastic experience, both for our company, and for our partners," remarks David J. McIntyre, Jr., President and CEO of TriWest Healthcare Alliance. "TriWest affords Veteran-owned small businesses, and other small businesses, the maximum practicable opportunity to participate in performing services for the company and providing equipment, services and supplies that the company uses in its work."
These two small businesses are unique in their own right: One holds its operations in a homey office set in a Historically Underutilized Business Zone (HUBZone), the other in a sleek, modern office setting. One focuses on the behavior and cognitive ability of people – a concept that can seem esoteric to some, and the other offers technology solutions – tangible resources that people use everyday to do their jobs.
At first glance the differences between the two businesses stand out, but just below the surface, you'll find the founders of each are quite similar. Both founders are Veterans, and each credits their business success, in some part, to their military training.
"In a competitive business environment, I believe that Service-Disabled Veteran-Owned Small Business proprietors offer unique skill sets and experiences learned during their military careers, which are now applied to their customers," observes Mitch Wentzel, TriWest's Small & Disadvantaged Business Program Manager. "Teamwork, service above self, leadership, integrity, mission accomplishment, and rapid problem solving are just some of the characteristics that I see every day when I meet with Veteran small business owners. It's important to keep in mind that a lot of Veteran small business owners also hire other Veterans because they see these same important characteristics."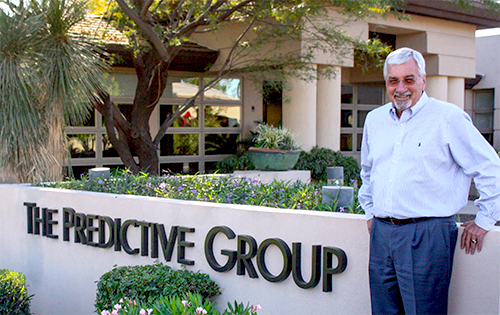 The Predictive Group uses behavioral and cognitive assessments to help businesses make better hiring decisions based on data. Mike "Stu" Stewart, CEO & Founder of The Predictive Group, explains that his company and its work is focused on what a prospective employee is capable of, not what accomplishments are listed on his or her resume.
Stu mentions that he brought some of the experiences he gained serving in the military to his business career. He enlisted in the U.S. Air Force and served at the height of the Vietnam War. "I am a proactive and resourceful person. In the military, I excelled at many little things," maintains Stu. "I learned accountability, and through grit and determination, I learned to be exceptional. I made the choice to stand out."
He made the choice to stand out in business, too. Stu has experienced a long and successful business career that continues with The Predictive Group. Stu has hired Veterans to work in his company, and as a Veteran himself, he recognizes the mindset of Veterans: accountability, responsibility, a sense of urgency, and the understanding that consequences are real. The Predictive Group encourages its clients to hire Veterans for those very reasons.
Better Direct is a value-added reseller of IT hardware, software, and services. For TriWest, Better Direct offers tools that keep its operations running.
Mark Evans is President and General Manager of Business Direct, and like Stu, he is a Veteran. Mark served as an officer in the U.S. Army. He served in Iraq during the first Gulf War, and also in Afghanistan during Operation Enduring Freedom.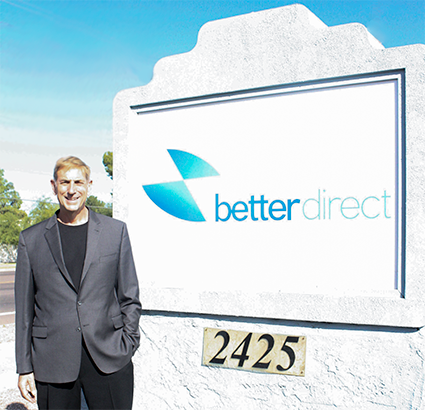 It just so happened that Mark was called to serve in Afghanistan as Better Direct was taking off and becoming more and more successful. There were people within the business that Mark relied on to run the company, but growth was something that took a backseat in his absence. In fact, many clients disappeared.
At the time, and still today, TriWest was fortunate to work with Better Direct. Mark asserts that it was he who was fortunate, as TriWest "kept the lights on" when he was deployed. Mark notes that "TriWest had faith in Better Direct and continued to work with us, even when I was not around. I know they also respected the fact that I was serving."
Mark thought about his company when he was deployed, and one thing he says his military experience reinforced in him was that "you're responsible for every single individual and everything that happens."
Mark points out that "If you look at our business you'll see we're located in a HUBZone." A HUBZone is a program of the United States Small Business Administration (SBA) for small businesses that operate and employ people in certain areas of the community – those that are Historically Under-utilized Business Zones.
The SBA designates specific criteria that must be met to qualify for the program, like the business having its principle office in a HUBZone, and at least 35 percent of its employees must also live in a HUBZone. The goal is to provide businesses with incentives if they operate and create jobs in communities with proven economic needs.
It's that sense of caring and community that comes through when you hear Mark talk about his business. When you walk into his offices, you're immediately greeted by smiling and warm people. His team works closely together, not just in the proximity of their workspace, but during downtime, too. Mark has a trainer come to Better Direct every day to work with the staff on improving their health. He cares about his team – his community.
"You gotta take care of your people," says Mark. "I'm genuinely concerned and interested in the success of each of my employees. I enable the people who work for me to come up with solutions. That's something I learned in the military: leadership principles."
TriWest is pleased to work with Veteran-owned small businesses like The Predictive Group and Better Direct. What better way to serve its customers – our nation's Veterans – than to include them in its operational efforts, day in and day out.
Learn more about TriWest's commitment to partnering with small, disadvantaged, and Veteran businesses.