TriWest Healthcare Alliance to Expand Workforce Company-wide
Announces Workforce Expansion to Accommodate Increasing Health Care Requests Under the Veterans Choice Program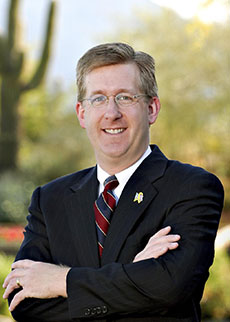 David J. McIntyre, Jr., President and CEO of
TriWest Healthcare AlliancePHOENIX, Ariz., May 26, 2015 – TriWest Healthcare Alliance announced today a company-wide workforce expansion to accommodate current and future growth under the Veterans Choice Program (VCP). TriWest has seen a significant increase in health care requests from Veterans since the driving distance criteria changed in April, and program demand drives a need to add employees to TriWest's workforce.
The Department of Veterans Affairs (VA) now determines eligibility for VCP based on the driving distance between a Veteran's place of residence and the nearest VA medical facility rather than straight-line distance. This change was published in the Federal Register effective April 24, 2015.
TriWest President and CEO, David McIntyre, Jr. said the company is expanding its workforce to meet the new demand of VCP. "In order to continue to provide the high quality customer service our nation's Veterans deserve, we need to quickly scale our workforce company-wide," said McIntyre. "More Veterans now meet the eligibility criteria of the Veterans Choice Program, and that is what this is all about, meeting the health care needs of our nation's Veterans."
TriWest continues to encourage Veterans to seek career opportunities at its Phoenix, Ariz., Puyallup, Wash., and Honolulu, Hawaii locations. The company's dedicated staff—with both military and business experience—brings together the best of the military and business worlds to ensure optimal organizational excellence.
TriWest is an Equal Opportunity Employer and offers a wide variety of career opportunities in areas such as Project Management, Administrative, Patient Services, Medical Operations, IT, Finance, Business Development, Data Services, and Customer Service. Applicants interested in joining TriWest to serve America's Veterans can view and apply for career opportunities at: recruiter.TriWest.com.
About TriWest Healthcare Alliance:
Since its founding in 1996, TriWest Healthcare Alliance has been on a mission to serve our country's military community by providing access to quality health care. TriWest serves the nation's Veterans through the Department of Veterans Affairs Patient-Centered Community Care (PC3) program and the Veterans Choice Program benefit. Our network of dedicated health care professionals is located throughout all or parts of 28 states, as well as Guam, the Northern Mariana Islands and American Samoa. TriWest also provides behavioral health services to the U.S. Marine Corps. The company's official website is www.TriWest.com.