Career Opportunities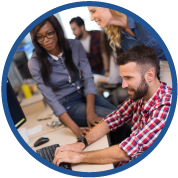 To view or apply* for an opening at TriWest, follow the simple steps below. TriWest employees must apply internally through PeopleSoft.
Indicate your preferred job-search criteria.
Select the position(s) that interest you by checking the box next to the job title.
Click "Apply Now." (Note: First-time users will be prompted to create a login and password.)
Use the copy/paste option to insert your resume into the field provided.
Click "Submit."
*You will be considered an applicant only after you apply for a specific job opening and submit your resume.
NOTICE: TriWest Healthcare Alliance is proud to be an Equal Opportunity Employer providing a smoke-free, drug-free environment. Applicants must be able to pass a drug test and background investigation. TriWest is committed to making our application process accessible for individuals with disabilities. To request assistance with the application process, please e-mail TWCareers@TriWest.com. We also comply with the